Stitching Time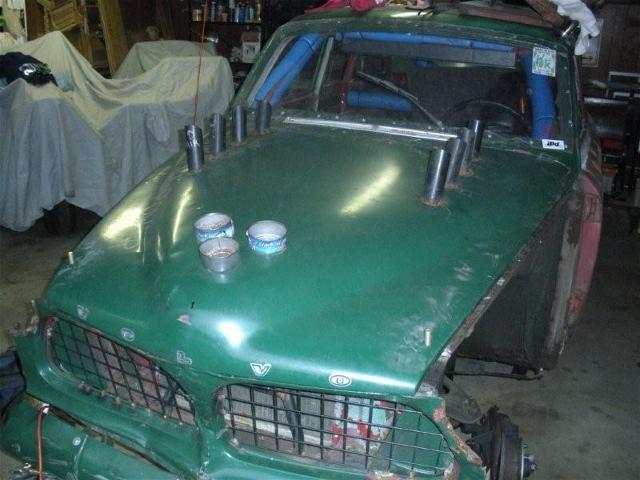 For some inexplicable reason, the team's been pretty enthusiastic so far this year. Its only the 3rd week of January, and we've already had three work sessions. Some of this must have to do with our immense enthusiasm for the upcoming race. Or perhaps it has something to do with the opulent accommodations provided by Rob's garage. Or maybe we just have nothing better to do in the dead of winter. Whatever the cause, we've been making good progress on the car.
Only a handful of photos were taken last week, and they seem to have disappeared, so the pictures herein depict just today's work. Anthony and myself showed up sometime before noon, with Brian rolling in around 12:30. Gary also showed up- he's now officially a member of the team- and Jamie and his family came by later for another fine Sharpf-hosted dinner. Lasagna and weld spatter.
The above picture gives an idea of where we stand. The wings are still torn off, as this makes working on the car a whole lot easier. They bolt on in about 10 minutes, so like as not we won't be attaching them until about 7 minutes before the green flag drops on April 4th. And probably only use about 3 of the bolts. Total.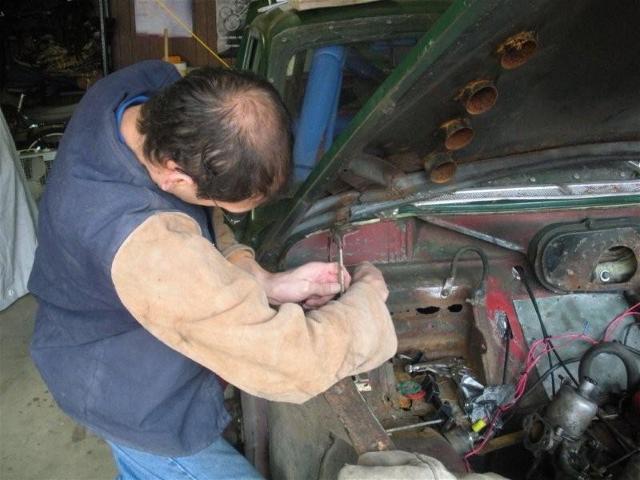 In order to offset some of the costs inherent to racing (and bump up our spending cap, per the rules of LeMons), we sold a few of the non-essential parts off of the car in various transactions. IPD offers a free classified service on their website, and within days of posting we had quite a few bites. Among the bits I sold off was one of the hood hinges. Unfortunately, this turned out to be somewhat non-non-essential. Luckily, I did have a banged up spare laying in my barn, which Brian dutifully bolted on today. And we got $20 for the good one that had come on the car- which had somehow escaped damage during the first race. Our hood doesn't quite close straight, but...hey, it was twenty dollars!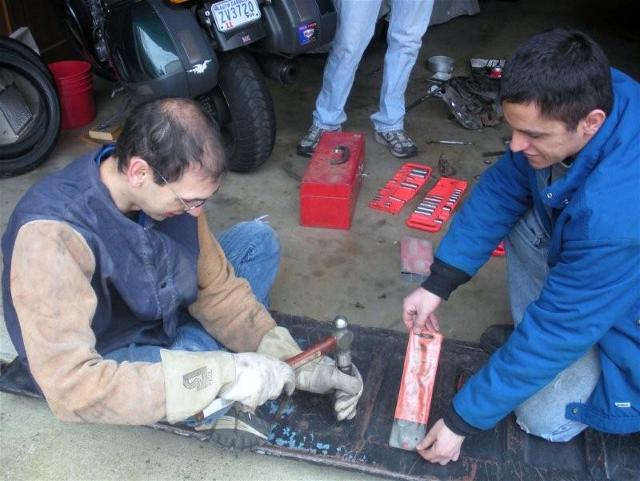 Like many of the pictures here, this one requires some explaining. In order to mount the Extra-Safe fuel cell, we needed some sheet metal to fill in the gaps in the trunk floor left by the box o' ferric oxide that was our fuel tank last year. Brian is restoring an old GMC pickup, and the tailgate was scrap- partly because it was so rusty, and partly because it said "CHEVROLET". Luckily, there appeared to be enough solid sheet metal on it to provide the trunk floor filler we needed. Here, Brian and Anthony use the Greatest Tool Ever Invented (a hammer-driver) to remove the hardware from the gate...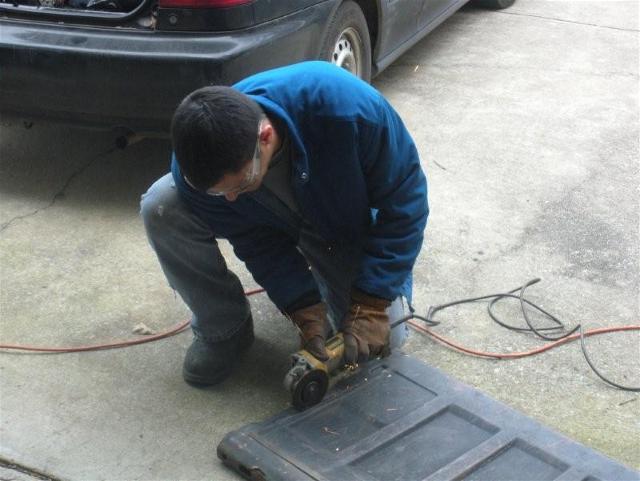 ...so Anthony could slice off the sheet metal we needed...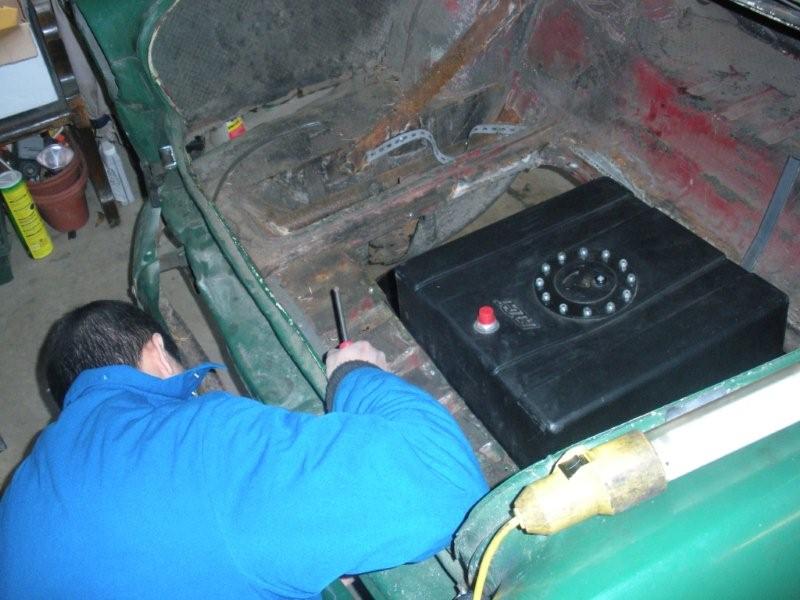 ..and install the fuel cell...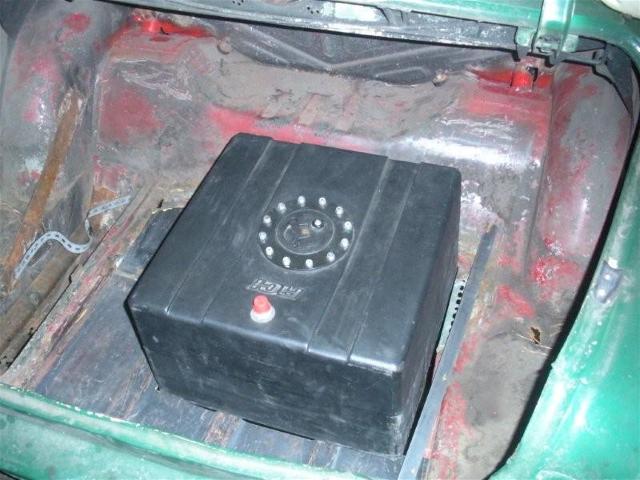 ...sortof.
Before setting the fuel cell in for keeps, we wanted to finish the rear differential work we'd started. I had ordered a set of used 4.88 gears off a fellow in Tucson (a la Craig's Ubiquitous List) but as they hadn't arrived yet, we couldn't complete the work. But we did prove that our self-engineered differential spreader does work: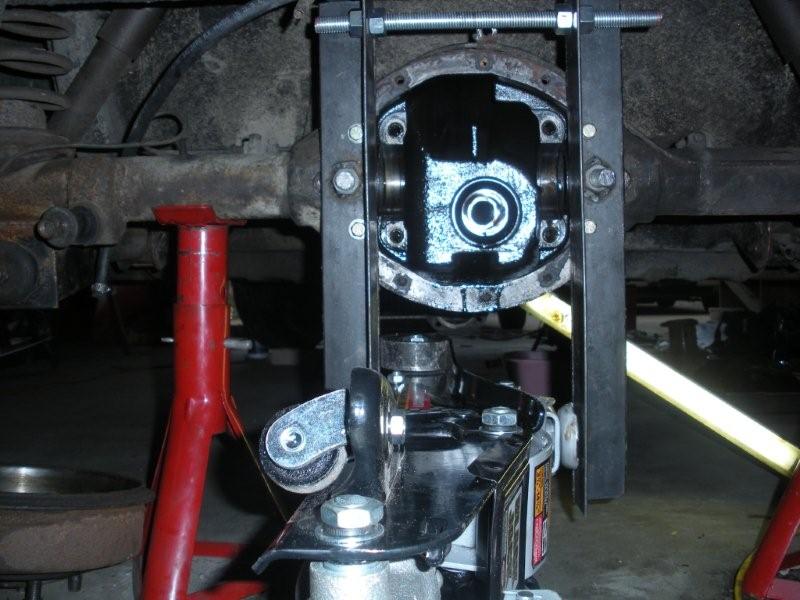 In order to pull the rear diff, the actual casting of the diff has to be spread apart about 0.020". What engineer at Dana came up with this idea we aren't sure, but we do hope that he was at least fired, and preferably drawn and quartered. Nonetheless, the welded and reinforced angle iron bolted into the diff cover holes, forced apart by a threaded rod at the top and a jack at the bottom, as shown, allowed the diff housing to give birth to the diff carrier: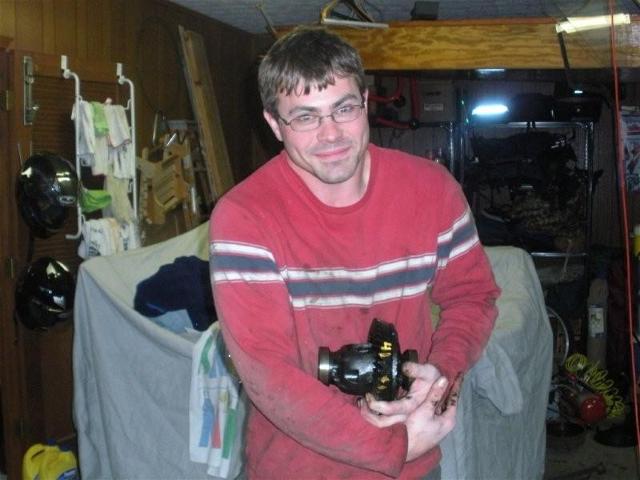 Its a 4.11!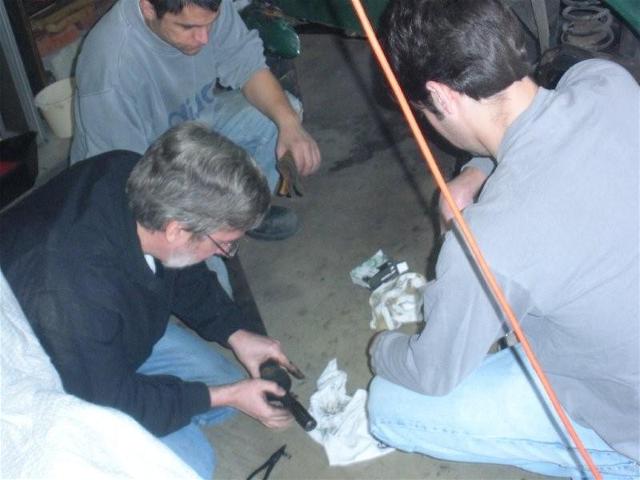 While we had the rear all torn apart (something that happens to us after a long night of drinking and tacos) we decided to check the driveshaft joints to make sure they were up the task of another 2 days worth of abuse. One of the U-joints was wobbly, so we changed it out. Another $10 strike against the budget.

Yup. looks wobbly.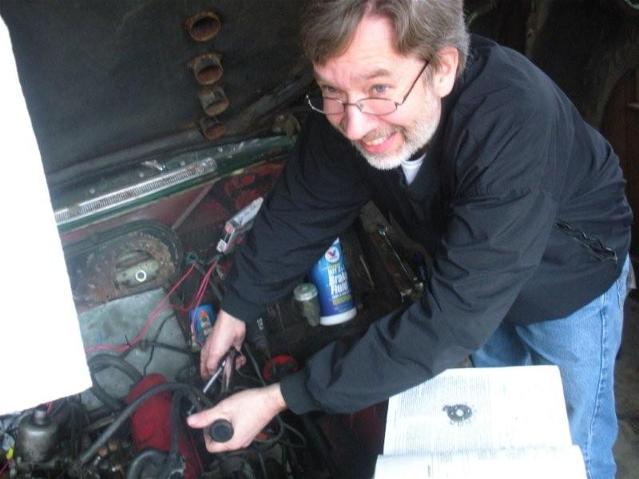 Around Christmastime one of Santa's lesser elves came by my house bearing a white box from IPD full of goodies. Today, Rob busied himself by pulling random parts out of the box and comparing them to the bits on the car, which invariably led to replacement of the car bits. Here, Rob installs new spark plugs and, to all of our ribbing, actually torques them to the specified amount. Who torques spark plugs? Engineers. The Great Box of Magic also yielded some new plug wires, and various distributor parts that, frustratingly, seemed to be made for a different distributor. Back to IPD they will go.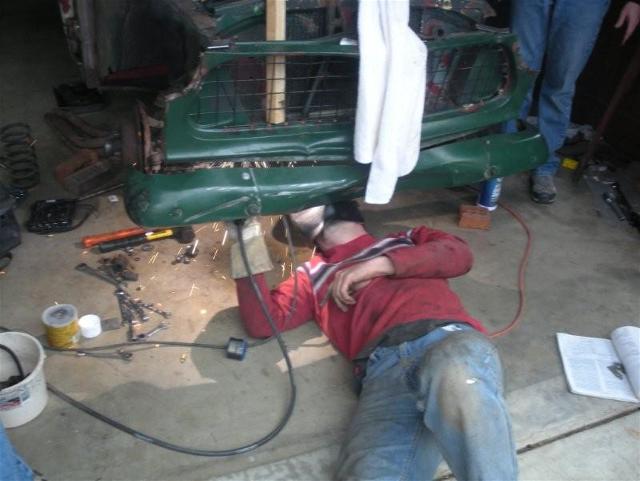 Here I decided to try out my new Auto-Dimming welding helmet. In order to level the car out, we have already cut down the springs, and we also procured a nice, thick front sway bar to replace the stock "wimpy" bar. Again, my wheeling and dealing on IPD and the list of Craig produced a few bargains for our budget. As a result of the cool parts I cleverly obtained for our car at cut-rate prices, I rightfully earned the title of "King of the Dodgy Deal", bestowed upon me over dinner tonight.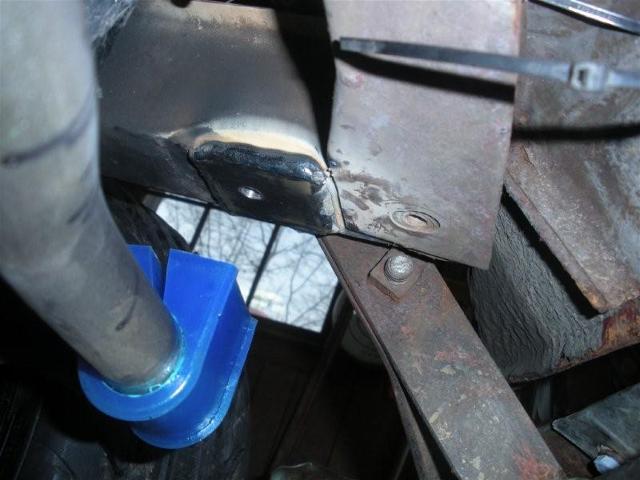 The brackets that secured the stock sway bar were held in place by a single bolt and a clip; the new, larger brackets for the new, larger sway needed two bolts. So we simply welded in a plate, and drilled and tapped it for the second bolt.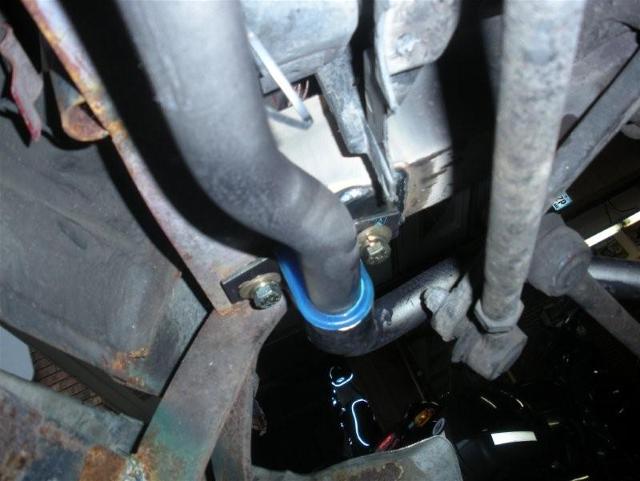 In the last race, the front of our car mysteriously relocated slightly closer to the windshield. Hmmm. Anyway, the hood latch was basically caput. Our bodywork skills ranging somewhere between "nonexistent" and "extremely mediocre", we decided not to bother with the latch and instead install a pair of hood pins.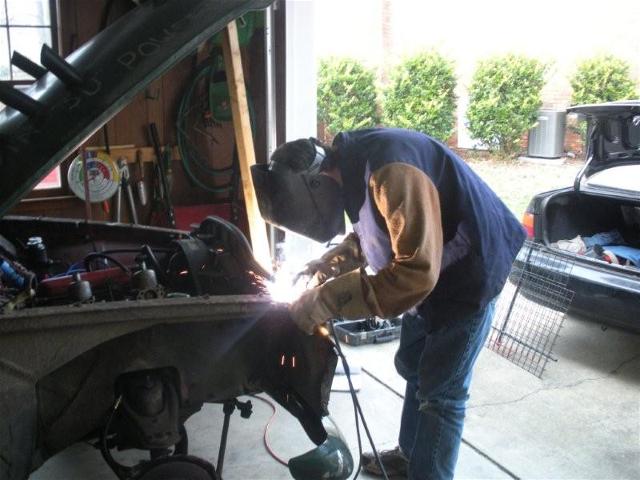 Of course, it had to be done LeMons-style. Which means, really, really cheaply and half-assedly. Here, Brian tried to redeem himself and his welding skills, welding in the bolts that will become the "hood pins".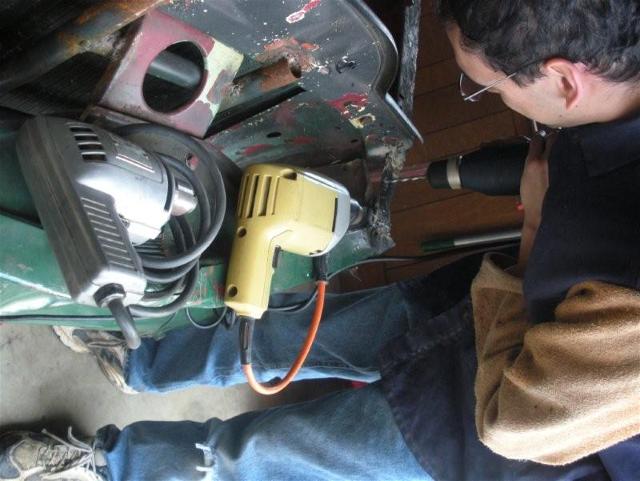 As Brian drills holes for the pins, how about a history lesson? The drill on the far left has a metal case, a single speed, and was made in America...sometime shortly after WWII. The drill in the middle has a plastic and metal case, funky 1970's puke-yellow colored, and was assembled in America. The drill that Brian is using is about 5 years old, all plastic, and made...somewhere we can't really pronounce without making clicking noises and speaking through our noses. Progress?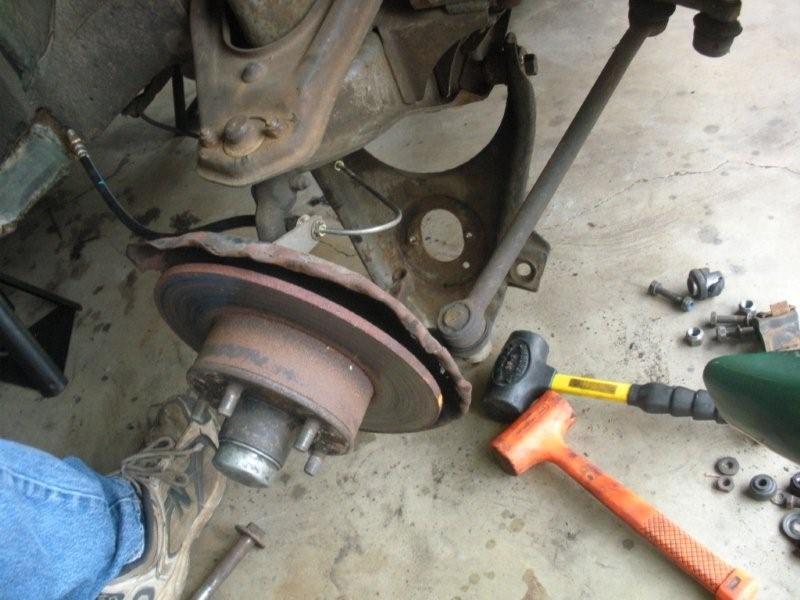 We did a lot today! Finally, we got the front suspension back together and the calipers reassembled and back on. The new A-arm went on...eventually. The orange hammer was employed first, followed by the heavier, black hammer. This is to fulfill the prophecy, "When it won't go, thou shalt need a bigger hammer."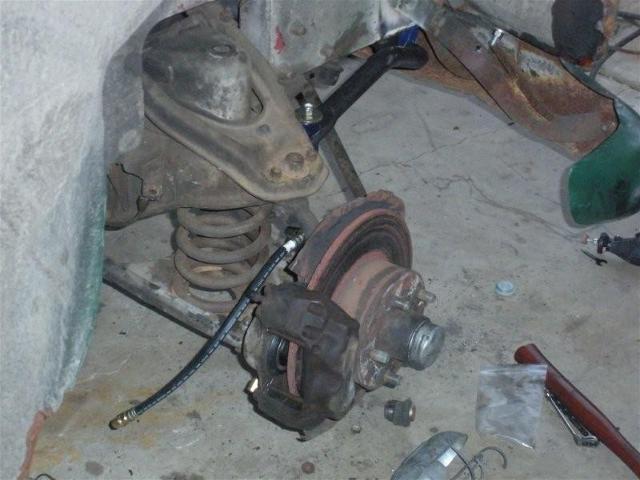 Rebuilt calipers! New hoses! And, while not shown, new pads, too. We bled all the nasty-gunky-failure-inducing DOT 5 fluid out of the system and replaced it with the DOT 4 synthetic. The rear wheel cylinders haven't been ordered yet, but once obtained, the brakes will be buttoned up and ready to go.

At some point today, Marilyn (Rob's wife) asked us if the car still ran. "Well, we did drive it into the garage under its own power." To which she replied, "more than one car has gone into that garage under its own steam and never made it out again." Oh my. Hopefully we _will_ go again...
After dinner, we sat around watching the 24 Hours of Daytona and making a revised list of Stuff We Really Need To Get Done On The Car Before April. We thought we'd made a lot of progress in the last few weeks. And yet, somehow the list now is longer than the list we made right before Christmas. Stay tuned...