Have you ever woken up in the morning and felt cold? Do the local law enforcement authorities give you static for not covering your upper body? Can't go into all those fancy-pants restaurants that advertise "No shoes, no shirt, no service?" Have we got a solution for you:
Official Tunachucker T-Shirts!
For the first time ever, you can now both conceal your unsightly upper body
and
show support for your favorite racing team at the same time! Amazing. Want to see these remarkable t-shirts? Here's a sampling: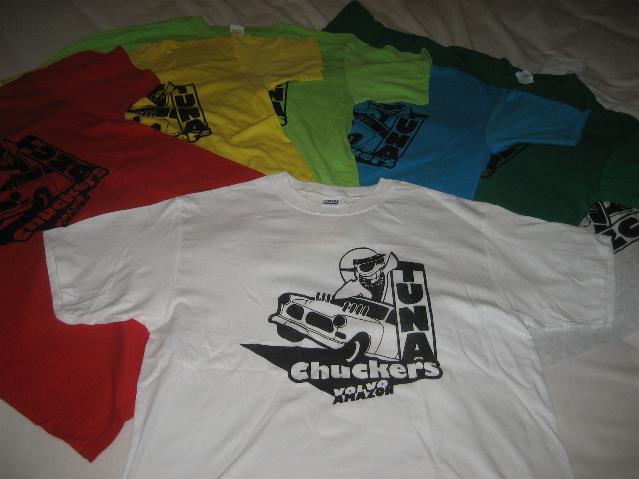 Look at that! 100% cotton, high-quality, American-printed shirts! That's right, these masterpieces were designed and printed by the famed Walker Canada, of Camden, South Carolina. Walker does awesome work, as you can tell by these samples. The printing is hand-screened, and very durable- the shirts are machine washable. No cheap "iron-on" transfers or delicate air-brushing here! Want him to make you your very own custom designed shirt? Shoot me an email and I'll send you his contact info.
Want to order a Tunachucker T-shirt? Of course you do! Not only will you be making a solid investment in your wardrobe, you will be supporting our rag-tag bunch of race car drivers, wrench-turners, wives, girlfriends, psychotherapists, witch doctors, and bartenders. So how do you do it? Simple! Just email us at:
tunachuckers@gmail.com

And let us know the size and quantity of shirts you want. You may specify the desired color/s, but keep in mind that supplies are limited and popular colors may sell out. So if we're all out of the color you want, you'll get something else...it may be close, or it may be whatever's left in the pile. If you want, you can specify a color you definitely don't want, and I'll do my best to not send you one of those. Sizes available are S, M, L, and XL. We have very few smalls, and not in all colors, so if you order a small you'll pretty much get whatever color I feel like sending you.
And how much for one of these masterpieces of modern apparel? A mere $15 USD each, plus $3 each shipping and handling. That's a snip for a custom-made shirt of this quality, and just think of the exclusivity and individuality you'll be expressing by wearing a Tunachucker T-shirt!
Methods of accepted payment are: Cash, check, money order, and Paypal (who really isn't my pal, we're just sort of acquaintances.) If paying by Paypal, you'll have to email us first so we can give you the secure email address to send payment to. If paying by any other method, you can send the payment and order to:
Mike Pittinaro
8510 N Tigerville Rd.
Travelers Rest, SC 29690

Now, here's a closer look at the colors available: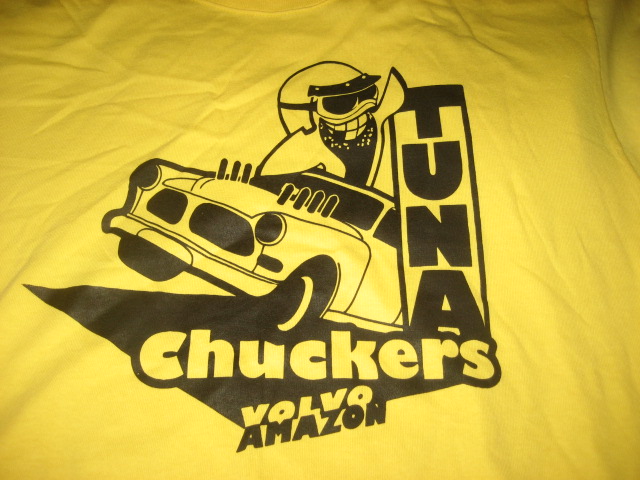 "99% of all Mercedes-Benz 240Ds and most late- 70's Volvos -Yellow" - L and XL only!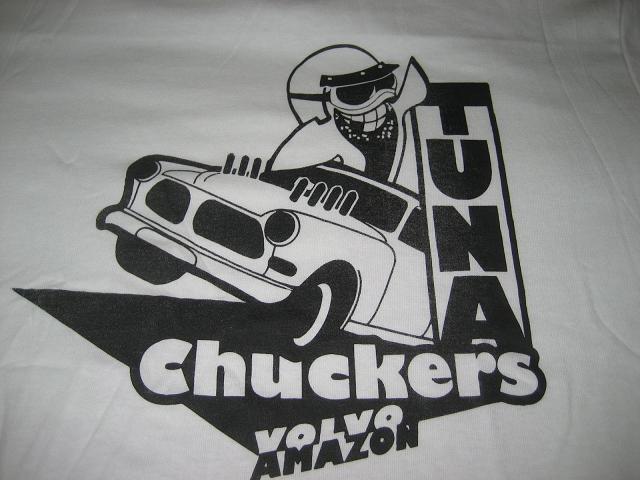 "Rental car fleet vehicle - White"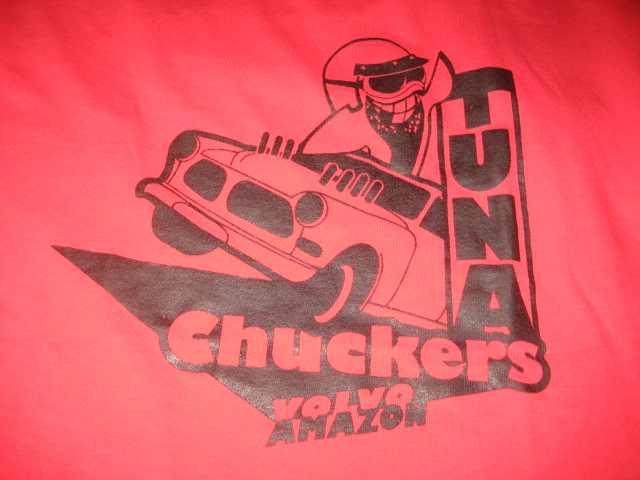 "1986 Porsche 944 - Red" - S, L, and XL only!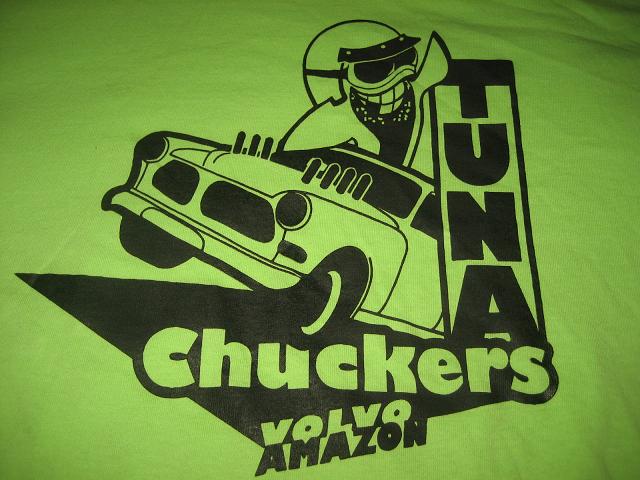 "1970 Dodge Challenger T/A Sub Lime - Green" -L and XL only!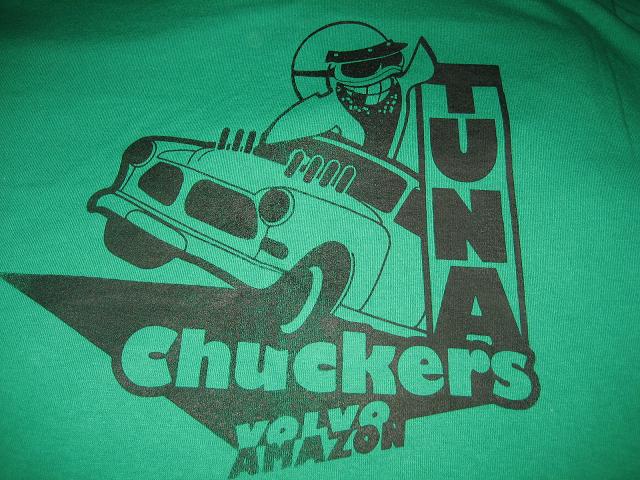 "British Racing Tree Hugger - Green" M, L, XL only!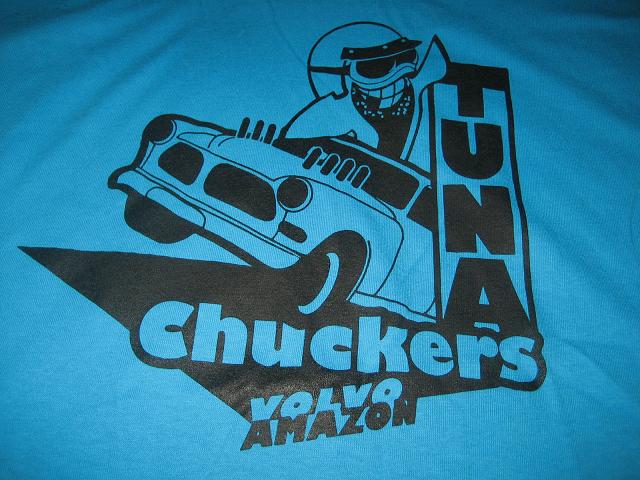 "Serial rapist van - Blue"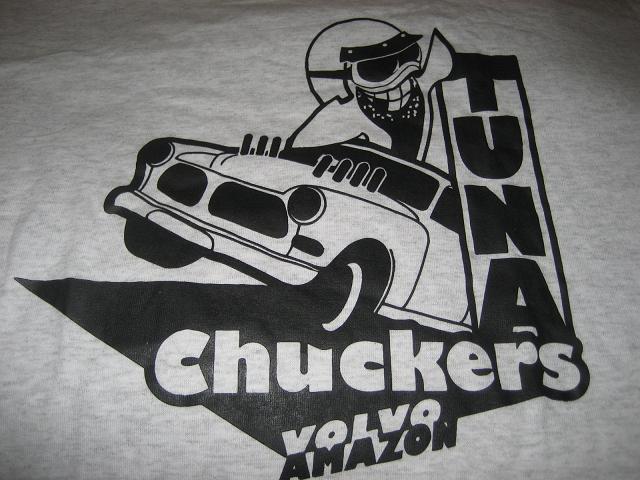 "Primered out el Camino - Gray"
Now order one already!